The following report is from news24.com:
Pretoria

- A South African couple living on a small island about 35km east of Madagascar was found murdered at their home, the international relations department said on Monday.
Department spokesperson Saul Molobi refused to identify them or say how the Johannesburg couple, who managed and owned a hotel spa (
Betsie Day Spa
) in the island Ille Aux Nattes, was murdered.
The couple was identified by the Afrikaans daily Beeld as Gareth Walters, 48, and his wife Hannetjie, 45.
They had reportedly been living in Madagascar for three years.
The couple was hacked to death and their bodies set alight on Friday, Beeld said.
Hannetjie had been stabbed with a panga in her face, head and back. Gareth had serious wounds to his head, the newspaper reported.
One of their employees said there was money missing from Hannetjie's purse, but nothing else had been taken.
"They have already been buried on Saturday in Madagascar. We provided the family with all necessary support," said Molobi.
So far, no one has been arrested for the killing, he said. Investigations were continuing.
Sources:
www.news24.com
(English)
www.nuus24.com
(Afrikaans)
About the island: Ile Aux Nattes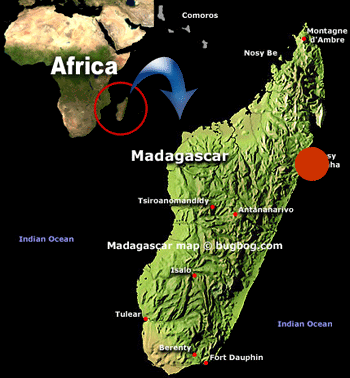 Ile Aux Nattes (pronounced "eal oh nut"), also known as Nosy Nato, is a small but extremely beautiful tropical island (only 3 km in diameter) just off the southern tip of St Marie - (as indicated on the map on your right).
The only way to reach the island is by lakana (traditional wooden canoes also known as a pirogue) from Sainte Marie. A number of lakanas are always on standby on the beach just south-west of the airport runway and the trip across only takes about four minutes. During low tide a reasonable good swimmer can swim across the narrow channel (about 300 meters) separating the two islands –
Source:
www.madxperience.com
Click here
for the direct link to the Betsie Day Spa, which was managed by Hannetjie Walters.
Picture Credits:
Hannetjie Walters -
www.nuus24.com

Original Madagascar Map -
http://www.bugbog.com
May Gareth and Hannetjie Walters rest in peace!