I received this email about two weeks ago, and have no idea who the original author is. I've decided to post it here, with slight modifications and some additions of my own. I'm sure we can all benefit from some humour, no matter how sad the situation….
DON'T FORGET TO REGISTER YOUR CELL PHONE NUMBER!
Operator:
"Thank you for calling Scooter's Pizza. Please take note that for quality purposes this conversation is recorded. May I have your ..."
Customer:
"Halloo, can I order?"
Operator:
"Can I have your cell number first, Sir?"
Customer:
"It's eish ....., hold on .....eh.... 082-266-2566."
Operator:
"Okay ... you're .... Mr David Plaajties and you're calling from 17 Retief Street. Your home number is 0114032366, your office 0117642302 and your mobile is 0822662566. I see you are calling from your girlfriend's home. Does your wife know you are there?"
Customer:
Somewhat shaken… "How did you get all my phone numbers?"
Operator:
"We are connected to the system Sir."
Customer:
"May I order your Seafood Pizza?"
Operator:
"That's not a good idea Sir."
Customer:
"How come?"
Operator:
"According to your medical records, you have high blood pressure and even higher cholesterol levels, Sir."
Customer:
"What?... What do you recommend then?"
Operator:
"Try our Low Fat Hokkien Mee Pizza. You'll like it."
Customer:
"How do you know for sure?"
Operator:
"You borrowed a book entitled 'Popular Hokkien Dishes' from the National Library last week Sir."
Customer:
"Okay I give up ... Give me three family sized ones then, how much will that cost?"
Operator:
"That should be enough for yourself and your girlfriend's family of ten, Sir. The total is R299.97!"
Customer:
"Gonna Griet … Can I pay by credit card?"
Operator:
"I'm afraid you have to pay us cash, Sir. Your credit card is over the limit and you owe your bank R5 720.55 since June last year…. That's not including the late payment charges on your housing loan, Sir."
Customer:
"I guess I have to run to the neighbourhood ATM and withdraw some cash before your guy arrives."
Operator:
"You can't Sir. Based on the records, you've reached your daily limit on machine withdrawals today."
Customer:
"Never mind just send the pizzas, I'll have the cash ready… How long is it gonna take anyway?"
Operator:
"About 45 minutes Sir, but if you can't wait you can always come and collect it on your Green Double Cab...."
Customer:
"What?"
Operator:
"According to the details in the system, you own a Nissan Double Cab, ... registration number NRB 132 GP ....."
Customer:
"Foetsek, man!"
Operator:
"Better watch your language Sir. Remember on the 15th July 1987, you were convicted for using abusive language to a policeman, and just last week you showed President Zuma the middle-finger…. I need not tell you what happened in the holding cells, BEFORE they made you apologize in writing!"
Customer:
[Speechless]
Operator:
"Is there anything else Sir?"
Customer:
"No nothing ...... by the way ... aren't you giving me those 3 free bottles of cola as advertised?"
Operator:
"We normally would Sir, but based on your records you're also diabetic…"
Customer:
"Ish!"
Operator:
Very angry … "What did you say… Did you just call me a bitch?"
Customer:
"No I said 'ish' … like 'Eish', without the 'e'"
Operator:
"That's not what I heard!"
Customer:
"Never mind… just cancel the order, I've lost my appetite."
Operator:
"You must first apologize."
Customer:
"Apologise for what?"
Operator:
"For your rude and arrogant behaviour. Remember this conversation is recorded."
Customer:
"Ag, go to hell man… I'll get my food from Kentucky!"
Operator:
"SIR wait, … I must give you a final legal verbal warning…"
Customer ends the call -- [Click]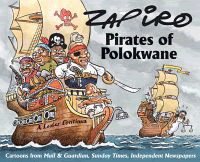 Related Posts:
Stop Terrorizing the Nation
Predictions for 2010
Zuma's secret weapon revealed
Special Assignment Documentary on Political Satire