This blog was created on 8 December 2008. The date (February 2008) that appears on the Tia Mysoa profile is thus incorrect. (I have no idea how that happened.) The blogging-aspiration started off as a casual pastime, but then rapidly transformed into a passion - (I don't like using the words obsession or addiction). Choosing the name 'Tia Mysoa' was a spontaneous decision, after verifying that it did not exist on Google.
To date, there are 135 postings on this blog, which is not much if you compare it to the Internet heavyweights. BUT – on the other hand, it is not the quantity that really matters, is it?
The hit counter, which was activated on 15 February 2009, reached the 10,3000 mark today, which is not something to really boast about, but at least the number of daily visitors are slowly increasing and not declining.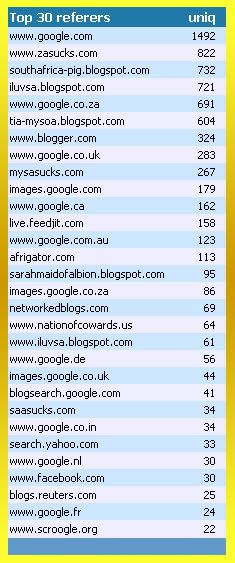 The contents on Tia Mysoa are mostly philosophical in nature, and are aimed at revealing the true nature of things, as viewed from my own knowledge and personal experiences. It is not a news-blog, nor a chronological report of all the events going on in Africa. An undertaking of this magnitude would be a full-time job, --- an enterprise that would rely on the input of several contributors.
'AFRICA' has been chosen as the general theme for this blog, because for nearly 50 years, this is where I have lived, worked, travelled, laughed, cried, celebrated, grieved, married, divorced, fell down, stood up, --- you get my drift?
Obviously, some postings here will touch on the above subjects, or direct readers to reputable online resources that deal with these subjects in more detail.
WHAT THEN IS THE PURPOSE OF THIS BLOG?
Our media are not reporting news anymore but NOISE! 90% of the stuff that is printed, screened, or transmitted over the airwaves is toxic garbage. It's no wonder that the true Christian seldom buys a newspaper, or hardly ever watches the news-channels on television. The 10% that is not rubbish normally concerns news about a natural disaster or a fatal accident, but every so often this is also used to further some hidden agenda. For example, --- if the government wants citizens to hand in their firearms, you can be sure our media will report 'news' about firearm accidents. You'll also notice how popular TV-sopies, such as 7de Laan for example, will bring footage of this directly into our living rooms, reminding folk how dangerous firearms are.
The main purpose of this blog is thus to seek and expose the truth that the main stream media (MSM) has distorted, --- whether by ignorance, carelessness, or deliberate design. I prefer using a philosophical approach, --- in other words, using reason and argument to debate certain issues that are effecting Africa and its diverse people. It is for this reason that the author does not wish to focus on one specific cause only (for example crime), but rather on an assortment of subjects related to Africa and her people. This approach also attracts a much wider audience.
I happen to belong to the white minority group living on the southern tip of this vast continent, --- consequently, the majority of opinions, emotions, and views expressed here will side with the visions and aspirations of the white minority class, particularly the Afrikaner-nation who have their roots firmly established in this soil. Many of the postings here thus serve to remind white folk where they came from, and why they should continue to promote, enjoy, and love their culture and their White Heritage.
Other postings, with a religious flavour, are aimed at supporting Christians (from all cultures), reminding them who the real enemy is in this ongoing battle for our souls. If you've read some of the articles published here you'll notice that I refer to this enemy as "The Synagogue of Satan" -- a term often used on these pages. Readers who are gifted with the talent of reading between the lines, will know that this highly-intelligent and complex enemy goes by various names. Christ Himself said: ---
"Behold, I send you forth as sheep in the midst of wolves: be ye therefore wise as serpents, and harmless as doves." (Matthew 10:16).
In other words, --- do not give your enemy too much rope, because they will hang you with it!
It is my belief, that although the current South African government is a mere pawn in the entire process, and have been placed here by the powers working for SATAN, they have gone too far in their endeavours to uproot Christians and the Afrikaner Heritage in this part of the world. Several postings on this blog will therefore place emphasis on this fact. I believe that I have just as much right as the Zulu, Xhosa, Swazi, Ndebele, Tswana, Pedi, Basotho, Venda, Lemba, Shangaan, Indian, or Coloured to live on this continent, and even more so because MY forefathers, and THEIR forefathers were all also born on AFRICAN soil.
ADVERTISEMENTS ON THESE PAGES
All the proceeds of affiliate programs (books and other products advertised on these pages) go towards the charity organisation registered in the name of 'Adopt a Drug Addict', hence the reason why you'll notice that some articles published here are drug-related.
PLEASE SUPPORT THIS WORTHY CAUSE, AS THE FUNDS HAVE RUN DRY AT A MOST CRITICAL TIME OF THE YEAR. Click here if you wish to donate!
Many thanks to all those who are supporting this blog, and especially my fellow bloggers who have linked 'Tia Mysoa' from their pages!