There is a very special breed of humans on this earth. Th
ey are the selected few who are blessed with the divine talent to cultivate and nourish the soil, to produce crops, and to breed and raise animals. I am talking here about a breed of man who has the talent to perform large-scale production in order to supply food to the peoples of this world, --- the agricultural scientists and stockbreeders of planet earth. For purposes of simplicity I will simply use the term
'farmer'.
Any ordinary man with a little intelligence and willpower, can breed chickens or pigs and make a profit. This is not the type of man I am referring to here. Those individuals who practice meagre subsistence farming, and who only produce enough to feed their families or small groups in their community, do not fall into the category I am going to discuss in this post.
Although there are exceptions, you will find that the authentic 'natural' farmers are God-fearing men. Every task they perform and every decision they make, is done only on approval from their Creator. This is the foundation upon which they base their success, --- and also their failures. Their day begins with prayer and thanksgiving at first light, and ends that way when they lay their weary heads down to rest. 'Idleness' and 'laziness' does not exist in their vocabulary, and you will find that they are rather intolerant towards those who have such traits.
No university degree or college qualification can ever guarantee that a person who wishes to pursue the art of farming will ever succeed, --- because the art of farming is an inborn ability, that was given to man the moment he became a living soul. Not all men were blessed with this divine talent, hence the reason why so many have tried and repeatedly failed.
This special breed of man is truly God's gift to all humanity, and it's a shame that this viewpoint is fast disappearing in a world that is becoming increasingly more corrupt and evil by the hour. Many will argue, "What makes the farmer more special than others?" Well, this is exactly what I intend to address in this posting, because there is a very clear distinction between 'them' and the average chap who feeds his family by purchasing commodities at a grocery store, or who keeps some goats or a veggie-patch in his backyard.
The Fertile Crescent of the Middle East, has been singled out as the site of the earliest planned sowing and harvesting of plants. (
Source:
History of Agriculture
) This is a region that is encompassed by what I shall call
'The Cradle of the White Race'
, for reasons that will be revealed shortly…
With the exception of Egypt, where small-scale farming was introduced about 7000 BC, there is no evidence that large-scale farming ever occurred before that time on the African continent, --- but yet Africa is now considered as the cradle of ALL HUMANITY! I do not wish to attack the absurdity of this notion in this post right now (maybe later in the near future), but it goes beyond all rational thought why so-called experts in the various fields cannot accept the fact that there were TWO separate creation events on this earth, in TWO separate regions on this planet, which I've illustrated in the image below.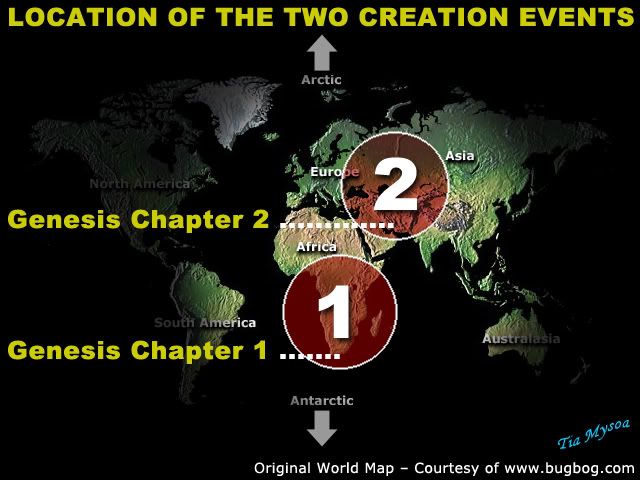 Anyone who wishes to explore the possibility,
from a non-biblical point of view
, that there were two separate creation events on this earth, need only research the origins of domestic "farm" animals. You will quickly discover that, besides cattle, these animals did not have their origins in Africa. And don't tell me they were all devoured by the wild beasts of Africa, or that the ancient Black African Race consumed the whole lot!
The Origin of the Horse
According to
this source
, the oldest evidence of humans taming horses comes from Asia. Prehistoric Africans in the middle and southern parts of the continent never used horses as a means of transport. Horses only featured many years later in northern Africa, --- AFTER the second creation event in Genesis Chapter 2. Horses were unknown in the rest of Africa until European settlers arrived, --- thousands of years later!
The Origin of Sheep
Sheep have their origins between 9000 – 11,000 years ago in Mesopotamia, an area more-or-less in the Tigris–Euphrates region. According to
Wikipedia
they are most likely descended from the wild
mouflon
of Europe and Asia.
The Origin of the Goat
The
domestic goat
(
Capra aegagrus hircus
) is a subspecies of goat domesticated from the wild goat of southwest Asia and Eastern Europe.
Take Note:
Cattle
were created in the first creation event. They already existed by the time Adam was formed, which implies that there must have been more than one species, because Adam gave names to the different kinds of cattle. (See Genesis 1: 24 and Genesis 2: 20)
In a previous posting on this blog, which I published in two parts (
Exposing the Synagogue of Satan
), I touched briefly on the possibility that there were two separate creations described in the book of Genesis. This pre-Adamite view concerning the creation of man is not something I've sucked out of my thumb, --- it also appears in the early writings of such authors as Paracelsus in 1520, Bruno in 1591, Vanini in 1619, and Peyrère, in 1655. It reached a high level of development with the 19th-century scholar Alexander Winchell in his book, Preadamites; or a Demonstration of the Existence of Men Before Adam, published in 1880. The evolutionists don't like this view because it does not fit in with their agenda.
I realize that some readers are thinking that I am rather arrogant and self-righteous to even dare suggest that the biblical Adam was a Whiteman. I can already imagine the anonymous e-mails I'll be receiving shouting, "You're a dumbass racist!" Well, do you know what? --- You can call me whatever names you want, but that doesn't change the truth. The fact remains that in Africa vast numbers of people are dying from AIDS and other numerous reasons. Others are starving to death because they cannot produce crops on a large scale, without the assistance of the semi-white and pure-white races whose true origins are NOT from Africa.
In January 2009 the Republic of the Congo approached
Agri SA
with an invitation to consider the possibility of farming in the fertile and depopulated rural areas of the country. After exploring various possibilities they decided that the White South African farmer was going to be their best bet, because no one else except White Africans (i.e. -- those who were born on African soil), were more familiar with the agricultural environment in Africa. The deal was signed last week giving South African farmers access to up to 10 million hectares (24.7 million acres) of farmland. See my
previous post
regarding this issue.
The Blackman here in Southern Africa is cutting his own throat by killing the White farmers, and by claiming the land because their primitive ancestors from the first creation happened to be buried in the soil, or because recent relatives of theirs happened to live on the land years before it was legally purchased. How much fertile soil has already been made unproductive by this satanic urge to re-distribute the land into the hands of unqualified farmers? Who is really behind this crazy notion of taking away land from successful commercial White farmers?
Related Posts on this Blog:
Wanted in the Congo – South African Farmers
Beware of the Congo
The irresistible urge to go farming
Limpopo Province – A heritage under siege
South Africa farmers sign Congo farmland deal
Squandering productive farmland